[Featured App Review] Twitterific/Twitterific Premium 05/15/10
Thanks to The Icon Factory for the promo code to this app! No song goes with this app. Why? Like I said for TextPlus, do I have to answer that?
Twitterific is a Twitter client for the iPod Touch and iPhone available for free ($4.99 for premium). Are you a Twitter user? If so, are you ever annoyed at how there is no "official" Twitter app for the iPhone? Well, then get Twitterific. The absolute BEST Twitter app. And it's available for free. Why is it the best? Is it how user friendly the app is? How colourful? Fast? All of the above? Yes. Yes it is.
The Icon Factory certainly knows how to make something better than the original. For lack of an official Twitter app, many developers such as The Icon Factory and the makers of Tweetery have decided to make Twitter apps. The difference between these apps? Everything. For example, Tweetery lacks a lot of features Twitterific does and sometimes, Twitterific just does it better. Simple as that.
The free version is ad-supported. Ads show up occasionally. Like I said for TextPlus, a small price to pay for a FREE fully featured BEAUTIFUL STUNNING Twitter app.
It's also fast, I mean really fast. Sometimes, it refreshes for new tweets so fast the sound surprises me (you can turn it off.)
Now, I'm an hour into writing this review (don't ask why; fine, since you asked, setting up camera for YouTube video but it was glitchy and I have old computer and it also uploaded some pictures I have not put on my computer yet so that took more than half an hour, I had to edit the video and put it on YouTube, saving took long cuz I have slow computer and uploading took long cuz I have slow Internet).
So, let's get to the totals.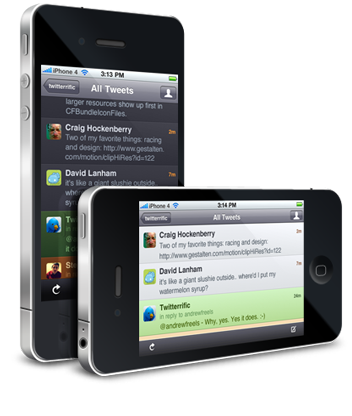 The graphics were colourful which added interest. The app was extremely user friendly. The app was almost TOO useful. But, as for creativity, Twitterific falls short; sorry.
Graphics: 5/5
UI: 5/5
Purpose: 5/5
Creativity: 1/5
Our rating: 5/5
Total: 21/25 or 88%.
Dennis
Next app: **Featured Review – Space Harvest (Thank you All Seeing Interactive!)**
Following that: **Featured Review – My Celebtwin + PROMO CODES! (Thank you Ivango!)**
http://www.youtube.com/v/8cJoD1JZJRM&hl=en_US&fs=1&rel=0